Stolen Sharpie Revolution is a DIY resource for zines & zine culture.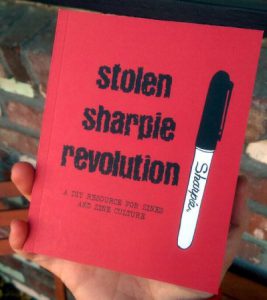 Since 2002, Stolen Sharpie Revolution: a DIY Resource for Zines and Zine Culture has been the go-to guide for all things zine related. This little red book is stuffed with information about zines. Things you may know, stuff you don't know and even stuff you didn't know you didn't know! Stolen Sharpie Revolution contains a cornucopia of information about zines and zine culture for everyone from the zine newbie to the experienced zinester to the academic researcher.
About Alex Wrekk
Sint ista Graecorum; Restatis igitur vos; Quis non odit sordidos, vanos, leves, futtiles? In schola desinis. Non autem hoc: igitur ne illud quidem.
Have a zine event to submit?