Stolen Sharpie Revolution is a DIY resource for zines & zine culture.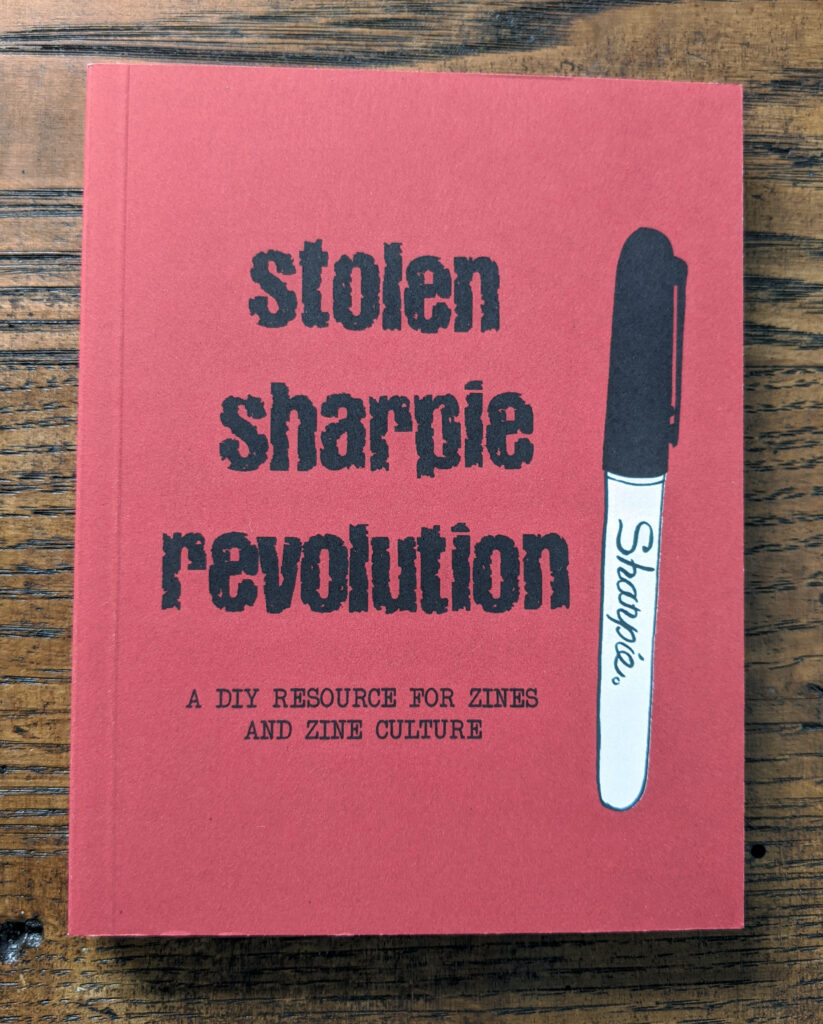 Since 2002, Stolen Sharpie Revolution: a DIY Resource for Zines and Zine Culture has been the go-to guide for all things zine related. This little red book is stuffed with information about zines. Things you may know, stuff you don't know and even stuff you didn't know you didn't know! Stolen Sharpie Revolution contains a cornucopia of information about zines and zine culture for everyone from the zine newbie to the experienced zinester to the academic researcher.
This is the 6th and latest edition of this book, published with Silver Sprocket in February 2020

Printed in Canada on recycled paper with vegetable based inks
Available to the book trade via SCB (Ingram, Baker and Taylor, etc), AK Press, Diamond, and direct from Silver Sprocket.
152 b&w pages; 4.25″ x 5.5″; SRP: $10.00;
PB ISBN: 9781945509452; Diamond: FEB201978
Hard-cover (for libraries) ISBN: 9781945509483
About Alex Wrekk
Alex's life revolves around making things; primarily zines, buttons, vegan food, travel plans, a garden and space for a cat in her bed.
Alex moved to Portland, Oregon from Salt Lake City, Utah in 1999 and worked for Microcosm Publishing from 1999 to 2006. That was where she first published Stolen Sharpie Revolution in 2002. Alex has an Etsy shop here, and in 2012 Alex opened Portland Button Works and Zine Distro, an online and brick and mortar shop in North Portland, blocks away from her home of 12 years. Alex maintains the Portland Button Works website and physical shop. She relishes putting stuff in envelopes for the postal carrier to bring to you!.
Alex has been creating the zine Brainscan since 1997 with stories ranging from travel, reproductive health, love, emotional abuse recovery, zine culture, secular witchcraft, and even fiction all wrapped up in text and photocopier art. She also wrote the book Stolen Sharpie Revolution: A DIY guide for zines and zine culture now in its its 6th printing.
When Alex isn't doing zine things she is doing other zine things like organizing the Portland Zine Symposium, establishing July as International Zine Month, commiserating with Zine Event Organizers around the world, updating the zine event listings on the StolenSharpieRevolution.org website, hosting the podcast Nobody Cares About Your Stupid Zine Podcast, fidgeting with her Risograph printer, reading from her zines out loud on zine tours or singing in a zine themed back called The Copy Scams.
Alex also enjoys fine craft beer, collecting dice and playing Dungeons & Dragons and Pathfinder, hanging out with her partner Paul, traveling, talking to birds and squirrels on the way to work and is a semi-recent convert to the church of cats thanks to Jackie and OJ.
Have a zine event to submit?